The MRS Awards Dinner 2014
11th December 2014
"Hello, I'm Brendan Reaney from Foreign Tongues, we sponsor the Best Agency Awards. I'm looking for John Bizzell, for the dress rehearsal."
"Hi, you'll find him in the auditorium – enjoy!"
"… enjoy!" > Fabulous! The stage and dining auditorium was once again set to impress. John ran through the usual routine of what would be required of me and stage positions, before escorting me to the VIP bar for a glass of bubbles – "to relax the nerves."
An hour later the call to table was just about audible above the roaring noise of market researchers' celebration. Within twenty minutes we were all settled and the formal celebrations began …
Jane Frost provided an excellent, and most welcoming, opening address – in a very glamourous outfit – leading us into the Awards themselves and with introduction to the Master of Ceremonies, Milton Jones, a comedian.
And what an amusing fellow he was – very sharp witted, pushing his apparent disregard for a number of specific awards and disrespect for pronunciation of nominees names right up to the edge, possibly too close on occasion; however, at 'Top-Table' we were very amused and banged the table on a number of occasions.
The ceremonies arrived at the Best Agency Awards and a Mexican-wave, of table after table, erupted on the MC's announcement of the nomination, with the whole audience finally exploding on hearing the winners' names!
Best Agency with a turnover above £20million – Flamingo
Best Agency with a turnover under £20million – Nunwood
The numbers seem to increase year on year, or my memory is going, and the handshakes of welcome kept pressing but eventually I clambered my way back to stage-centre for presentation, at last, of these much desired gongs to the Company Directors, after photographs showing the copious cheering, plentiful wriggling and abundant giggling (and some cheeky tickling from one fellow – see photo below)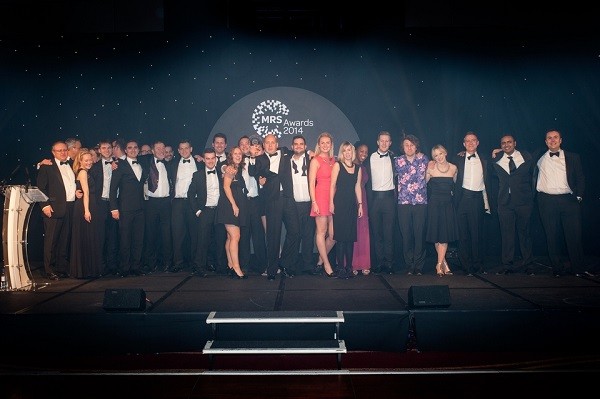 And then it was all over!
Well not quite, then the Party began and, I am told from a reliable source, carried-on into the early hours of Tuesday morning – "I think I left around five …"
Congratulations to all at the MRS for pulling-off another very successful evening and here's to next year's!
Book your tickets early – it's going to be a cracker!
May I wish you a very Merry Christmas and a Happy New Year, on behalf of all at Foreign Tongues.