MRS Awards 2017
26th November 2017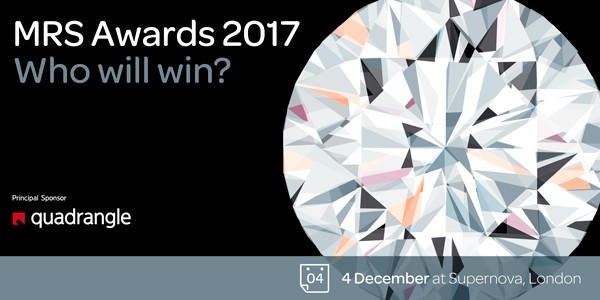 The MRS Awards celebrate research's ability to drive innovation, inspire change and deliver results. The Awards were created to recognise creativity, science, commerce and most importantly, research.
According to an independent review by advisors PwC, the UK professional research and evidence market generates up to £3bn a year of Gross Value Added (GVA), making a significant contribution to UK plc, and employs close to 60,000 highly-qualified people. This is why the research market and individuals involved deserve recognition, and is the purpose behind MRS Awards.
Each year, in December, the research world gathers to celebrate the very best it has to offer. It is quite simply the biggest fixture in the research calendar, with over 800 guests. The Awards dinner is the calendar event for anyone interested in and connected to market research. Susan Calman, comedian and Strictly Come Dancing contestant, presents this year's awards, including the new Jeremy Bullmore Award for Creative Development.
As the MRS states:
"Join colleagues, clients, agencies and research legends to find out who will scoop the most prestigious prizes in research. It's a night for professional pride and fantastic networking."
The highlight of the market and social research industry calendar, the Market Research Society awards showcase the best the industry has to offer. Here are the highlights from last years event.
The finalists for 2017 are listed below. The winners will be announced at the MRS Awards Dinner on 4 December at the Supernova, London.
Previous winners can be found below:
MRS Awards Finalists
Applications of Research
BritainThinks
The Economist, UM London & Proximity London
Revealing Reality & Arthritis Research UK
Weetabix & Trinity McQueen
Business-to-Business Research
Jigsaw Research
Kantar Millward Brown Corporate
The Sound & Reed Exhibitions
Financial Services Research
Northstar Research & Metfriendly
Royal London & ORC International
UK Structured Products Association & Harris Interactive
Zurich Assurance & ORC International
Healthcare Research
C Space & Nuffield Health
Hall & Partners & Sanofi Genzyme
Incite Marketing Planning & Shire Pharmaceuticals
Kindling & Cancer Research UK
Independents' Day
Bad Babysitter Productions
Compass Research Limited
Feeling Mutual & The Box Plus Network
Shed Research Consulting
Innovation in Research Methodology
Nanyang Technological University Singapore
NatCen Social Research
Northstar Research & Jaguar Land Rover
Insight Management
Barclays & Watermelon
Facebook
Northstar Research & Jaguar Land Rover
Unilever Consumer and Market Insights & Ipsos
International Research
BBC World Service & Firefish USA
Edelman Intelligence
Ipsos Healthcare
Jeremy Bullmore Award for Creative Development
BritainThinks
Flamingo
The Nursery Research and Planning & Karmarama
X marks the spot & Nationwide Building Society
Media Research
COG Research & Exterion Media
Firefish & Channel 4
Newsworks
Twitter UK & Omnicom Media Group
New Consumer Insights
Ipsos & IFF
Royal London Group
System1 Research
Twitter, Firefish & the numbers lab
Prosper Riley-Smith Qualitative Excellence
Ipsos MORI
Northstar Research & Jaguar Land Rover
Sky UK
Public Policy/Social Research
2CV & Transport for London
BDRC Continental &  The British Library
BritainThinks
Highways England
Silver Medal
Genevieve Begy & Vishal Talwar
L. G. Pee
Reem Ramadan
Virginie Silhouette-Dercourt & Christel de Lassus
Social Media Research
IBM
ITV
Kantar Added Value
Kantar TNS
Technology Innovation & Effectiveness
Digital Taxonomy
Lightspeed
Research Now
Virginia Valentine Award for Cultural Insights
BBC
The Economist, UM London & Proximity London
Flamingo
Sign Salad & Johnston Press
Research Live Awards finalists
Best Agency with a turnover above £20million
C Space
Future Thinking
Hall & Partners
Kantar Millward Brown
Kantar TNS
YouGov plc
Best Agency with a turnover below £20million

ABA Research
Circle Research
Incite Marketing Planning
Join the Dots
Kadence International
Opinium Research
Sparkler
Best In-house Team
Dow Jones Customer Intelligence Team
Global
Premier Foods
Swim England
Trinity Mirror Solutions
Unilever Research Innovation
Best Innovation

Conquest
Future Thinking
GfK
GfK
Zappistore
Best New Agency

One Minute to Midnight
Sapio Research
Best Place to Work
C Space
Opinium Research
IFF Research
Ipsos MORI
MMR Research Worldwide
Truth Consulting
Business Impact of the Year
Auto Trader
C Space & Ella's Kitchen
The Football Association
Royal London Group
Truth Consulting, Heathrow & Dufry
Young Researcher of the Year
Ayesha Alesworth, Edelman Intelligence
Lucy Baxendell, Hall & Partners
Imogen Birt, Hall & Partners
Lottie Birdsall-Strong, The Football Association
Amy Jones, 2CV
Mathilde Leblond, FreshMinds
Sam Lipscomb, BAMM
Tammy Perl, The Pineapple Lounge
Frances Revel, the7stars
Rohini Sarkar, UKTV
Foreign Tongues, previously the main Sponsor of the Best Agency Awards, is now the Principal Sponsor of the Excellence Awards and proud to support such an amazing event.
Additional info:
https://www.mrs.org.uk/article/mrs/uk-research-market-worth-over-3bn-says-first-comprehensive-sector-review
https://www.mrs.org.uk/article/mrs/excellence-awards-2017-the-winners
https://www.mrs.org.uk/event/awards/mrs-awards-2017