The need for effective translation for e-commerce websites
12th December 2017
The internet is the easiest to access, and biggest, source of information. By 2030 most of the world will be online. This opens tremendous opportunities for e-commerce businesses to drive sales through online channels. What it also means is that e-commerce businesses have to adapt their business models and marketing strategy to meet consumers' expectations when purchasing products online. This includes localised content, easy and clear user journey, fast delivery and returns, payment methods and currency, local phone number, online customer service systems, quick responses on social media and much more.
Internet users continue to grow
The internet continues to change the way we interact with the world. It also continues to grow, with users increasing every year. In June 2017, 3,885 million users were recorded, nearly 52% of world's population.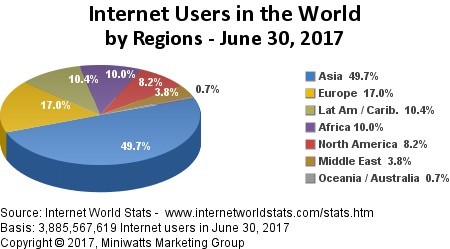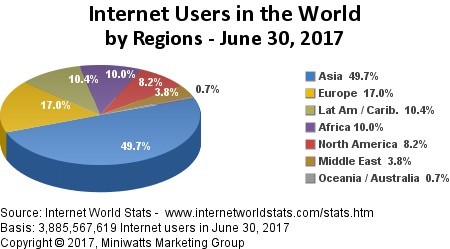 "As the reach of the Internet grows so does the diversity of language required for users to understand the content at their fingertips."
English, Chinese and Spanish are still the most popular languages in the world, according to Internet World Stats, but this doesn't mean that other languages should be forgotten. 897 million users speak and search in languages not included in the table below: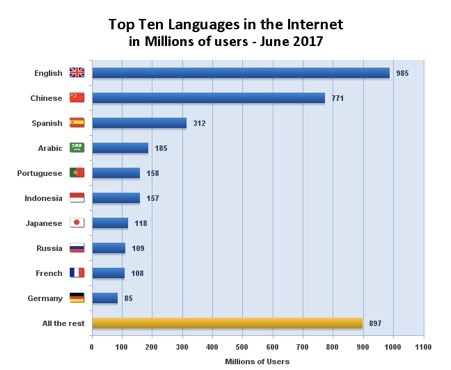 Source: https://www.internetworldstats.com/stats7.htm
With online users growing, sales are also increasing. UK online retail sales hit £133bn in 2016, increasing 16% year-on-year.
Index growth rates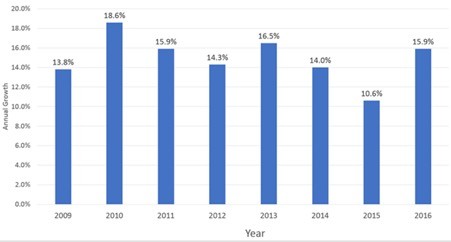 Looking at the split across sectors, accessories and lingerie saw the biggest increases in online sales, up 38% and 33% respectively.
Gifts (+26%) and footwear (+21%) also exceeded the index's annual growth rate, while the health and beauty sector saw a drop of 3% YoY.
Amazon was the most successful retailer of 2015/2016 in the UK, according to The Retail Week, generating 4.900 million in online revenue. Amazon's website is accessible in 14 languages across the world; targeting English, German, Italian, Spanish, French, Chinese, Japanese, Italian, Indian and Dutch speakers – versatile languages spoken in most parts of the world. This not only makes sense, as the largest markets for e-commerce sales are found in the United States, the United Kingdom, Germany, France, China, Japan and Brazil, but it also illustrates that localised websites lead to increased sales and revenue.
The need for localisation
People want to read content in their native language. Why is this important? Because there is clear correlation between in-language content and a consumer's likelihood of making a purchase. A few years back, Common Sense Advisory surveyed 2,430 web consumers in eight countries to learn about how language affected their purchasing behavior. They found that over 70% of consumers spend most or all of their time on websites in their own language. They are more likely to buy a product with information in their own language and the ability to obtain information in their own language is more important than price. More than half of consumers are willing to pay more, if you are willing to give them information in their own language.
Conclusion
Showcasing your products with a website that is human-translated, localised and optimised in each target language means higher on-site engagement, a better conversion rate and more returning customers. There is a lot more to think about than just translating the website; consideration to website design, multilingual SEO, localisation of non-written content, such as videos or sound files, etc., is essential but these should come easily if you know your audience and your target market.
The internet breaks down geographical barriers and allows business to connect with customers in ways they never could before, bringing more opportunities for growth.
There's a lot of information and research available to help you identify which markets and languages are potential goldmines for your sector. You just have to choose the languages that fit your market place, for the products and services you sell. Don't rush in to enter overcrowded marketing as it may not give you the ROI you are expecting.
When you need help with translating your website content, ask Foreign Tongues. We work with local translators, worldwide, so please request the free quote here and we will get back to you immediately.
Read More:
https://www.foreigntongues.co.uk/how-to-avoid-mistakes-when-optimising-your-site-for-mobile/
https://www.retail-week.com/data/data-top-20-retailers-by-uk-online-sales/7019872.article