Learning a language – a New Year's resolution for one in five Brits
4th January 2018
Learning a language is a New Year's resolution for about one in five Britons (21%) in 2018, according to a poll commissioned by the British Council.
Amongst the 2,000 UK adults surveyed, one in five said they plan to make learning another language their New Year's resolution. One in three intends to try and learn at least some phrases in another language in the year ahead.
The languages Brits are keen to learn include Spanish – the language identified to be the most vital in post-Brexit Britain, followed by French, Italian, German and Japanese.
The survey concludes that:
64% of those surveyed said they've always wanted to speak another language fluently.
56% stating that they regret never having made the effort to learn another language.
58% questioned think it's more important than ever for people in the UK to learn another language, but only a third said they can currently hold a basic conversation in one.
45% admitted to being embarrassed by the level of their language skills.
The British Council is urging more of us to think about the importance of languages and to give one a go in 2018.
The uptake of languages in schools has fallen by 7.3%, in the number of pupils in England, Wales and Northern Ireland taking GCSE language exams in the past year.
Current language skills amongst 18–34 year olds in the UK: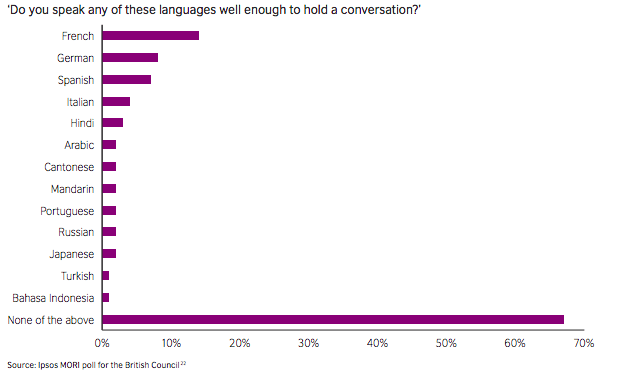 The UK's current lack of foreign language skills is said to be holding back the country's international trade performance, at a cost of almost £50 billion a year. The British Council is urging more of us to think about the importance of other languages and to take one up in 2018.
If you want to learn a new language, the British Council offers a series of learning videos with practical hints and tips. Children can go abroad to learn a new language through schemes like Erasmus+ and Language Assistants.
There are lots of language online apps, podcasts, courses and games available to help people try a new language, or dust off their previous language knowledge. These can be used independently or alongside traditional classes. In a recent article, Tech Radar identified the best language apps, many free of charge, including Duolingo, Memrise, Tandem, Rosetta Stone, FlashAcademy, TripLingo, Udemy Language Courses, Babbel and more – see the full list here. You can pick and choose the app that best suits your learning style and that you will find most fun to learn from.
Languages for the Future
In its recent report, the British Council highlighted the shortage of people able to speak the ten most commercially important foreign languages. These languages are vital for post-Brexit Britain and the country's future prosperity.
The Languages for the Future report identifies Spanish, Arabic, French, Mandarin Chinese, German, Portuguese, Italian, Russian, Turkish and Japanese as the languages most valuable to the UK over the next 20 years.
They were chosen based on economic, geopolitical, cultural and educational factors including the needs of UK businesses, the UK's overseas trade targets, diplomatic and security priorities, and prevalence on the internet.
Other languages which scored highly and may well grow in importance in the future include Polish, Malay and Hindi, along with other Indian languages.
Ten most important languages: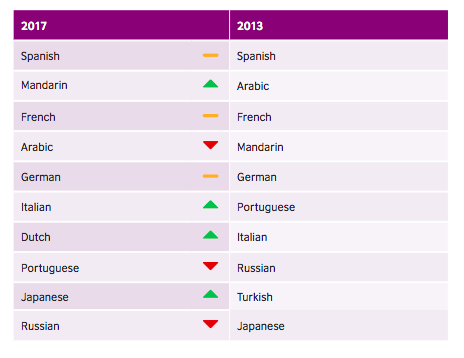 Languages and Careers
Knowing a foreign language can be a very valuable asset to your career.
"As firms look to markets around the world, languages are becoming increasingly valuable. Employers are showing a growing interest in those skills."
Dr Adam Marshall, Director General, British Chambers of Commerce
Five years ago; Labour Market Intelligence's research on languages and careers, based on job advertisements from a selective number of websites, put German in first place as the most highly valued career enhancing second language, followed by French, Spanish, Italian, Dutch, Russian, Swedish, Portuguese, Danish and Norwegian, with Chinese (Mandarin and Cantonese being treated as one) trailing in 11th place. Comparison of these two sets of findings suggests that, in recent years, demand for Mandarin Chinese, Arabic and Japanese has overtaken the demand for Russian, Portuguese and Scandinavian languages.
Percentage of companies rating a specific language as useful to their organisation: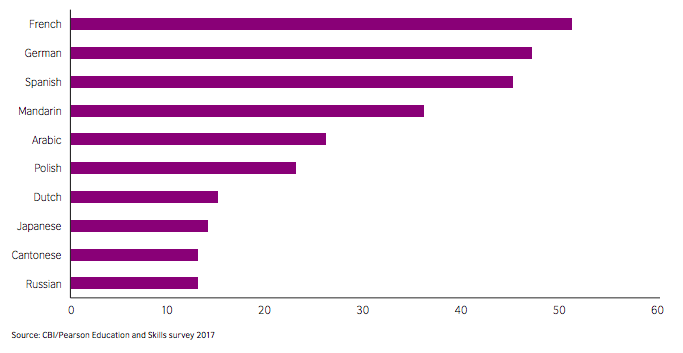 Job vacancies with a foreign language requirement: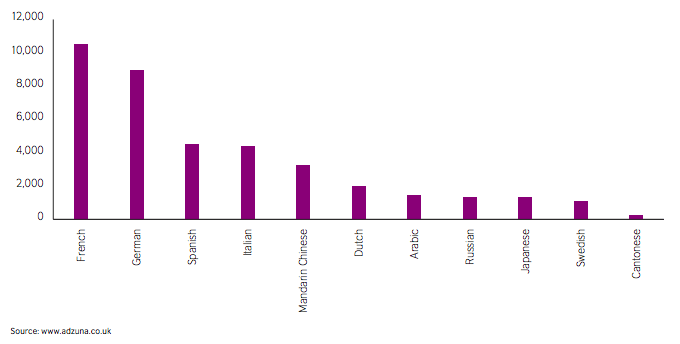 Languages in the International Trade Market
In 2017, the Department for International Trade launched a strategy which named 45 overseas markets for UK business development, post-Brexit.
Markets identified, by the Department for International Trade, include: Africa, Australia, Azerbaijan, Belgium, Brazil, Canada, Chile, China, Denmark, Finland, France, Germany, the Gulf, Hong Kong, India, Indonesia, Iran, Iraq, Italy, Japan, Kazakhstan, Kuwait, Lithuania, Malaysia, Mexico, Mongolia, the Netherlands, New Zealand, Norway, Oman, Philippines, Poland, Qatar, Singapore, South Africa, South Korea, Spain, Sweden, Switzerland, Taiwan, Thailand, Tunisia, Turkey, USA and Ukraine.
Adding to this list are the emerging markets, in order of expected growth to 2020, including India, Vietnam, Ghana, Malaysia and Poland to mention a few.
Languages needed for economic growth: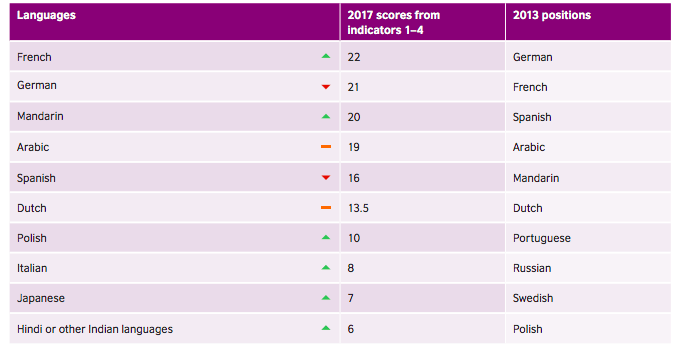 Where the level of English language proficiency in a country is low, the ability to communicate in their language is of the utmost importance to future business. To enable Britain to trade with these countries, highly skilled workers, speaking international languages are required and essential to the future growth of the British economy.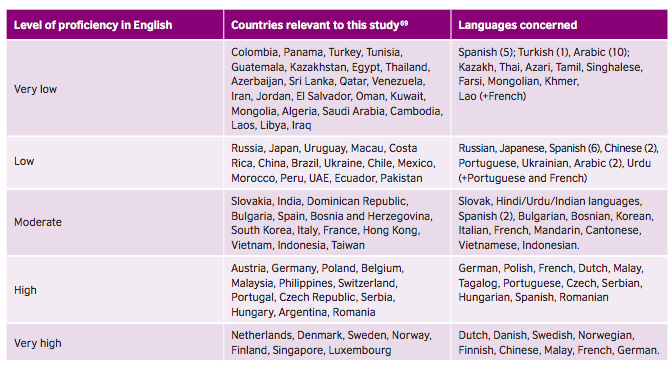 Moreover, businesses trading online need to consider the different languages on the internet to target a wider audience. In 2017, Chinese was the second internet language after English. Compared to figures used in 2013, from the same source, Korean has dropped down to be replaced by Malay, but all other languages referenced remain in the top ten. Japanese, German and French have moved down the table, whereas Arabic and Russian have moved up.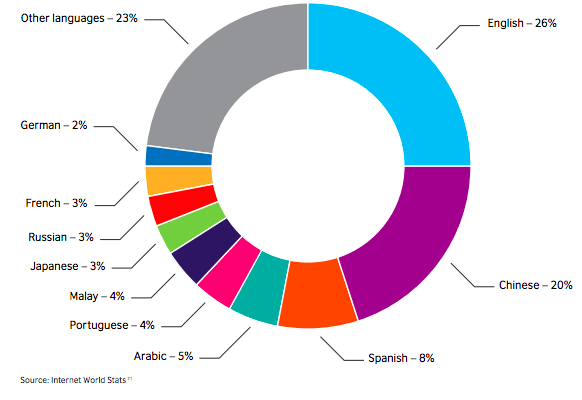 It's about time we moved on from the mantra that English is 'the' international language of business, to understanding more about the importance of other languages and the many varied circumstances in which they are used in addition to, or in preference to, English.
Read more:
The full report can be accessed here:
https://www.britishcouncil.org/sites/default/files/languages_for_the_future_2017.pdf
https://www.britishcouncil.org/organisation/press/fifth-britons-plan-learn-language-2018
https://www.britishcouncil.org/organisation/press/report-shows-deficit-languages-uk-needs-most
https://www.foreigntongues.co.uk/learning-new-language-post-brexit-britain/