Technical SEO factors to consider before translating your website
23rd June 2017
Does your company have an international presence? If not, are you looking to enter the international market?
With your website being the shop window to your business, translating it into new languages is essential. Many website translations go wrong because some of the crucial technical factors are being omitted or incorrectly used. In this short article, we explain what technical elements you need to consider to ensure your website is found online.
Make sure the page language is obvious
Search Engines use only the visible content of your page to determine its language. You can help search engines determine the language correctly by using a single language for content and navigation on each page, and by avoiding side-by-side translations.
Ensure each language version is easily discoverable by keeping the content for each language on separate URLs and avoiding the use of cookies to show translated versions of your page.
Consider your URL structure
Make Google/Bing/Yahoo aware of the country targeted by your site, so they can use this information to improve the quality of their search results in different countries. Elements that help search engines determine a website's targeted country include:
Country-code top-level domain names (ccTLDs)
Geotargeting settings
Server location through the IP address of the server.
Decide on a URL structure that makes it easy to geotarget parts of your site to different regions.
The following table, provided by Google, outlines your options: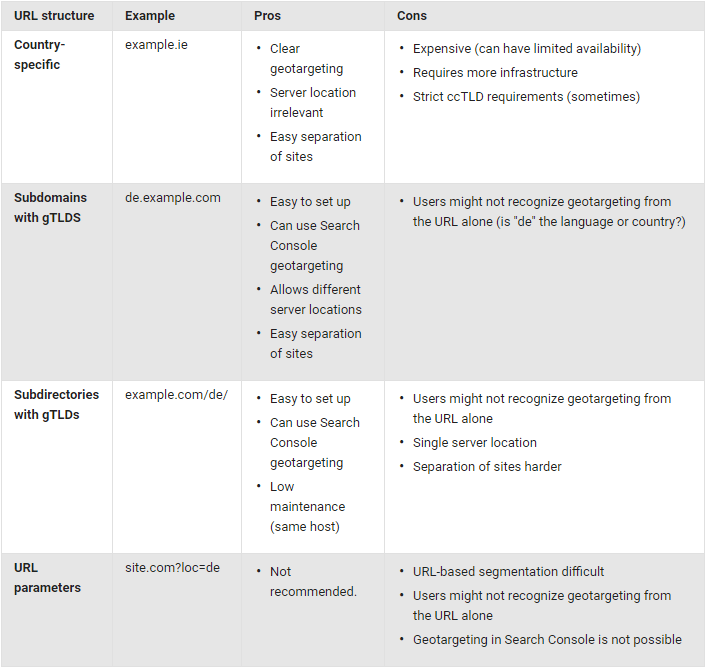 Specifying Regional Landing Pages with The Rel="Alternate" Hreflang Annotation
The rel="alternate" hreflang="x" annotation is used to help Google identify which URLs should be served to which visitors, based on language and geographic location. This is useful when you have multiple versions of the same content, that have been translated or otherwise adjusted, to target users in a specific region.
There are 3 ways that we can implement this markup:
HTML link element in header. In the HTML <head> section of http://example.com/us, add a link element pointing to the Spanish version of that webpage at http://example.com/us-es, like this: <link rel="alternate" hreflang="es" href=" http://example.com/us-es" />
HTTP header. If you publish non-HTML files (like PDFs), you can use an HTTP header to indicate a different language version of a URL: Link: < http://example.com/us-es>; rel="alternate"; hreflang="es"
Sitemap. Instead of using markup, you can submit language version information in a Sitemap.
The most popular method seems to be HTML link element, the sitemap or both of those items.
You can annotate this cluster of pages using a Sitemap file or using HTML link tags like this:
<link rel="alternate" href="http://example.com/en-ie" hreflang="en-ie" />
<link rel="alternate" href="http://example.com/en-ca" hreflang="en-ca" />
<link rel="alternate" href="http://example.com/en-au" hreflang="en-au" />
<link rel="alternate" href="http://example.com/en" hreflang="en" />
Once you have your tagging live, you can check for issues inside the Google Search Console. This will let you know what tag issues you are having and where they're located. If you don't have it, set it up. It's free and a useful source of information on the health of your website.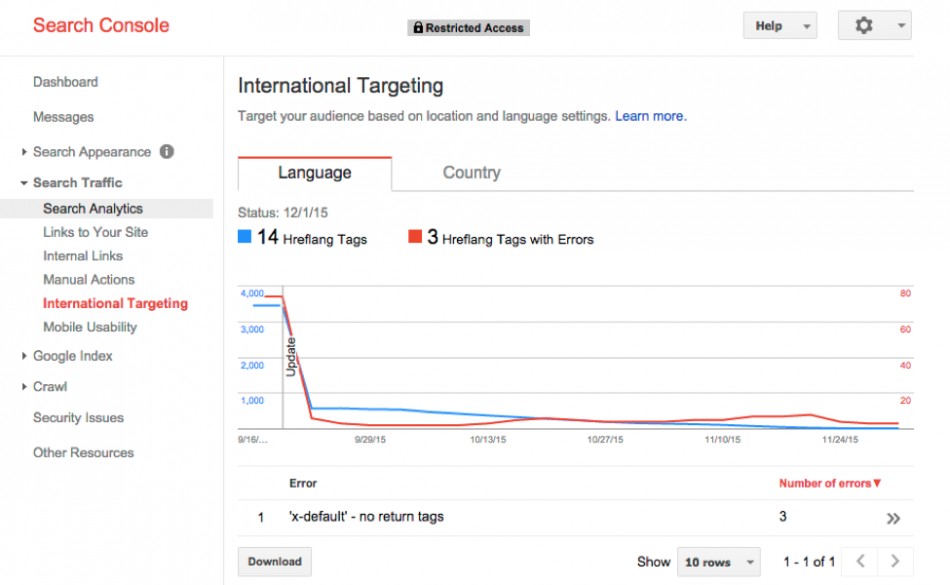 Specify the X-Default Hreflang Attribute Value
What happens when someone visits your site from a country that you don't have a landing page for? You want them to land on a generic home page, or a page where they can select their country or language. This is achievable thanks to a new bit of markup from Google called "x-default," you can now specify a default page for users outside your target regions.
<link rel="alternate" href="http://example.com/" hreflang="x-default" />
Content and headings
Use localised content, headings and meta data optimised for location. Keep away from machine translation. It may be cheaper but won't benefit your website or your business long term. Translation of content should always be done by a human, who is fluent both in the target language and has qualified knowledge of the original language content. Spending the right resources on translation will ensure the best user experience and the most organic traffic.
Don't forget the best practises – add one H1 per page and use multiple H2s, H3's all in hierarchy and add internal links between pages.
Local Content
Add local business schema with local office address if you have one and aim to get local links, mentions and reviews, to not only improve your rankings but also your click through rate and conversions.
Bing Multilingual & Multiregional SEO
Bing uses the language meta tag and pays attention to HTTP headers, top-level domain and reverse IP lookup.
Bing Language Meta Tag
Use the "content-language" meta tag to embed a document location in the <head> section of your documents:
<meta http-equiv="content-language" content="en-us">
The "content" attribute is comprised of a 2-letter ISO 639 language code, followed by a dash and the appropriate ISO 3166 geography code. For example:
de-at: German, Austria
de-de: German, Germany
en-us: English, United States
es-ar: Spanish, Argentina
Alternatively, embed the document location in either the <html> or the <title> element using the same format:
<html lang="en-us">
<title lang="en-us">
Keep in mind that the priority order for these tags is: <meta>, <html>, <title>. In other words, the document location set in the "content-language" meta tag will always supersede the document location indicated in the <html> or <title> tag.  It's best that you use one option, instead of multiple options here.
HTTP headers
For host-wide location tagging, you can choose to embed the document location by using the "content-language" HTTP header and follow the language-dash-location format outlined in the previous section of this post.
For more information on setting HTTP response headers please refer to:
Top-level domain
Bing says that "Out of the top level domain categories distinguished by the IANA, only the country code top-level domains (or ccTLDs) influence the document location. For an overview of the currently assigned ccTLDs, please visit IANA's website at: http://www.iana.org/domains/root/db/. Top level domains other than ccTLDs, including .com, .net and .org, do not influence the document location."
Reverse IP lookup
For each document we add to Bing's index, we perform a reverse IP lookup to determine the document's location. Reverse IP information is yet another signal used when other signals are less conclusive.
Foreign Tongues has been providing professional translation services and advice to businesses for more than twenty years. Our experienced project managers and linguists will help you and your company overcome the language barriers to international markets.
Contact us now for The 20 Minute Quote and one of our project managers will help guide you through the planning of your next international project.