The Language of Love
24th June 2016
You may have heard about a new device that is set to launch in Spring 2017 called the 'Pilot'. The Pilot, if it delivers on its promises, appears to be a real life version of the Babel fish from the Hitchhikers Guide to the Galaxy. Described thus: – "The Babel fish is small, yellow, leech-like, and probably the oddest thing in the universe. It feeds on brain wave energy, absorbing all unconscious frequencies and then excreting telepathically a matrix formed from the conscious frequencies and nerve signals picked up from the speech centres of the brain, the practical upshot of which is that if you stick one in your ear, you can instantly understand anything said to you in any form of language: the speech you hear decodes the brain wave matrix."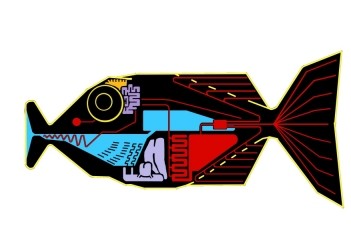 The Pilot will hopefully be a lot less leech-like, looking very similar to a pair of wireless earbuds that one might use with an iPod. The aim is the same though – to provide instant translation between two people speaking different languages. Science fiction made real!
A recent article in The Atlantic poses an interesting question though – "Could Two People Use Real-Time Translation to Fall in Love?". While a somewhat lengthy read, the author does raise some interesting points about the subtleties of language, the nuances hidden in every phrase and the limitations of computer algorithms to keep up with languages that are ever expanding and ever evolving. The author concludes that "Waverly Labs's Pilot is a remarkable invention that could change what it means to be a student, tourist, immigrant, and refugee. It could allow for more substantive engagement with the world. It could even lead to love. But will it deliver on its promise of a "life untethered, free of language barriers? […] Despite how quickly machine translation has progressed in the last few decades, language is a data set that's far more complex than it seems, so no matter how quickly translation technology evolves, the stochastic messiness of speech will always outpace it."
The author's sentiment echoes our post human translation vs the rise of the machines – "that for now at least, professional translation still has its place in the world. Perhaps more so than ever, due somewhat ironically, to modern technology and the consequentially ever increasing international markets that today's communication networks bring".
So it would seem that professional, human translation is here to stay, at least for the foreseeable future. And as the author of The Atlantic piece notes, gadgets like the Pilot will no doubt come in very handy for tourists holidaying in Europe, or possibly developed into a system for international customer service but for the meantime, the quality just isn't good enough for commercial purposes, let alone the serious business of falling in love!
So if you or your company are looking to have your market research surveys, marketing material, discussion guides or web content translated, simply ask Foreign Tongues Translation for a quote and we'll do the rest.