Another successful year of translation
21st December 2019
2019 has been another great year for Foreign Tongues, with 750 successful projects delivered and over 1,100,000 words translated, we are excited to see what 2020 has got to offer.
Our continuous support for the MRS Excellence Awards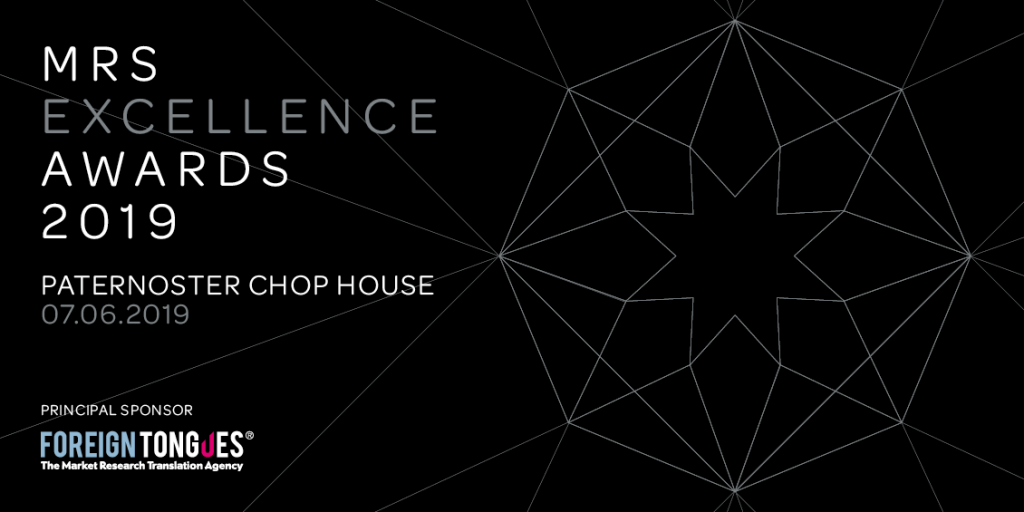 As always, we are proud to be the Principal Sponsor of the MRS Excellence Awards, an event that celebrates those who have added substantially to the body of market research knowledge, through speaking at conferences, writing papers, academic success and career commitment to the promotion of the profession. Yet again, we congratulate all the winners and wish them ever more excellent achievements in 2020.
Foreign Tongues and sustainability
Keeping the environmental issues front of mind, Foreign Tongues have taken steps to become more environmentally friendly and sustainable.
We've installed LED lighting in our offices to reduce the consumption of energy.
Our lights turn-off when no one is in the office.
Started using power saving profiles on computers, so they turn-off when inactive
We've replaced our stationary products with sustainable and recyclable alternatives.
We are paperless.
Continuing fast and accurate translation services
In 2020 we will continue working with brands to deliver fast and high quality translation, on time and for advantageous costs. Foreign Tongues is now fundamentally the market research translation agency – AIMRI, CASRO, ESOMAR and MRS affiliated, with regular advertised exposure in the market research relevant 'IMPACT' and Marketing Week magazines. Having said that, we do provide our translation services to other industries.
The commercial languages we translate, from and into, include:
French, Italian, German, Spanish
Catalan, Czech, Greek, Latin American Portuguese & Spanish, Polish, Portuguese, Turkish, Welsh
Arabic, Bengali, Bulgarian, Croatian, Danish, Dutch, Estonian, Farsi, Finnish, Flemish, Gujarati, Hindi, Hungarian, Latvian, Lithuanian, Norwegian, Punjabi, Romanian, Russian, Serbo-Croat, Slovak, Swedish, Ukrainian, Urdu
Simplified and Traditional Chinese, Hebrew, Indonesian, Japanese, Korean, Malay, Shanghainese, Tagalog, Thai, Vietnamese
We will continue offering three choices of service, each specifically tailored to offer our Clients optimum value for their budget, with delivery geared toward the most efficient turnaround, and dependent on our Client's project needs.
The choices are as follow:
If you want the 'Expedited' service, we will return the completed translation to you within the most efficient (your 'usual' FT experience) time-frame, at the per 1,000 ('1k') words rate.
If the project does not have an imminent deadline, we will apply the 'Standard' service rate (at the lower end of the cost ranges), per 1,000 ('1k') words, with a delivery within an acceptably agreed turnaround time.
Finally, if the project is of a medical, legal or technical nature, we offer the 'Proof-Read' service; this incorporates the addition of a Final Review, undertaken by an independent, third party, proof-reader, at the rate per 1,000 ('1k') words, with a delivery similar to an 'Expedited' time-frame.
With respect to turnaround, you will expect c. 2,000 – 2,500 words of 'expedited' translation to be produced per working day, per language, per linguist – dependant on the specific subject matter and document complexity.
Should you require a faster turnaround this can be achieved through 'splitting' the work between an appropriate number of qualified linguists. Whilst the source formatting and meaning will, of course, be maintained using this method, there will be a style difference / issue (no two 'hands' are the same) and we would recommend the use of one further linguist to undertake final edit and so ensure a seamless one-style throughout to produce the requisite end-product.
Thank you
Lastly, here is a big "Thank you!", to all of our Clients, for your business this year.
And, if you are a business looking for a friendly, honest translation agency, providing professional translation services, we would love to work with you.