Global Market Research 2019 – Top Findings
23rd March 2020
Following the upward trend in 2017, the market research industry saw an interesting 2018. The Global Market Research 2019 report provided by ESOMAR not only illustrates both positive and negative changes that happened in the industry, but also offers insight on the industry's behaviour, results and trends.
This article outlines the main findings and challenges faced by the market research industry.
Global turnover grows by 1,5 million dollars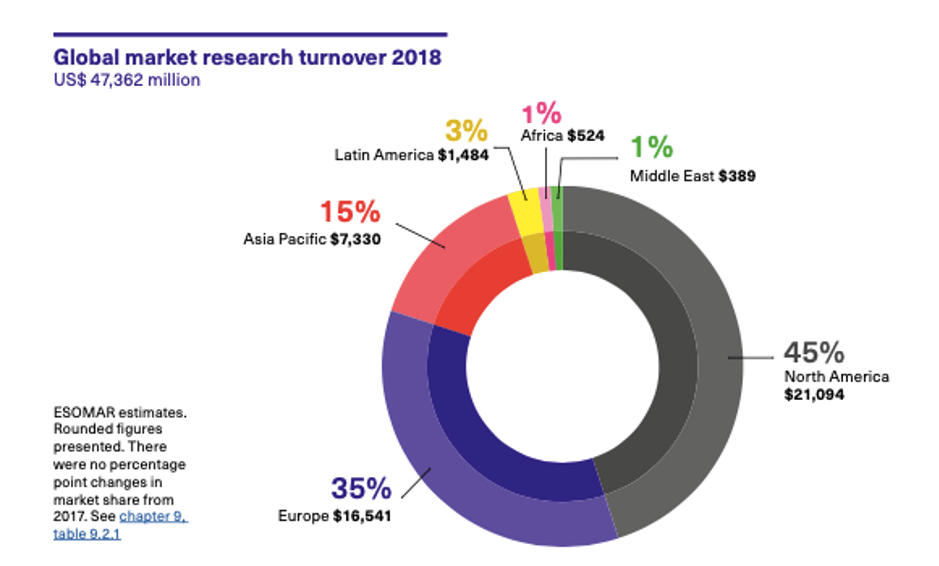 While in absolute terms, the global value of the industry grew by a seemingly optimistic 2.1%, the impact of inflation is significant and reveals a more stagnant picture, reversing the trend to a slightly negative -0.3% in net terms.
Looking at the fastest growing marketing markets in Europe; Lithuania, Latvia and Bulgaria were in the top three. The trend has not been so positive for the United Kingdom, which saw a negative net growth of -1.8%, Germany (-5.5%), Romania (-12.2%) and Switzerland (-13%). These countries suffered a drop in net growth, caused by sharply declining budgets, increasing costs, and the need for ever-increasing speed in decision making.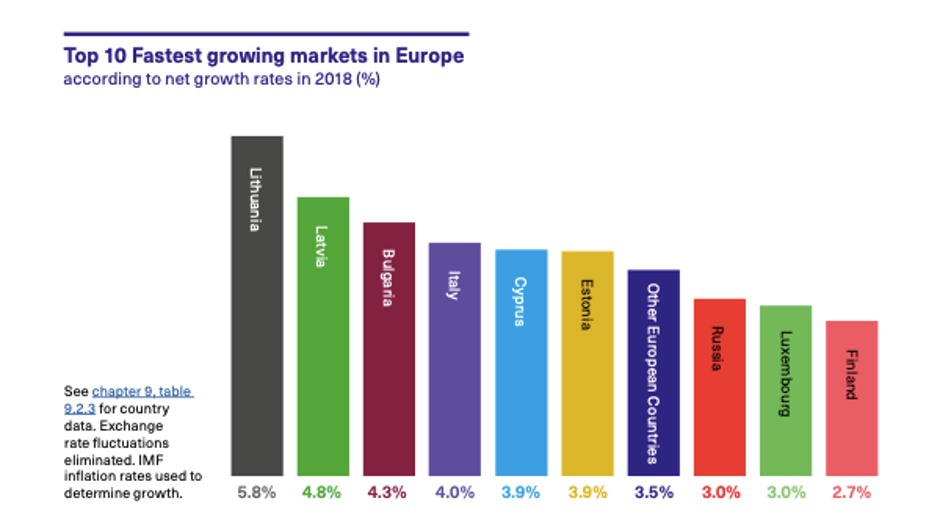 Five largest markets
Last year saw China's return to its position as the fifth largest market in the world, overtaking Japan after a few years of closely fought contention.
The United States is still largest market with 44% of total turnover.
Should the current trend continue, we could expect 2019 to have shown; the United States dropping one percentage point in the world's share to 43%, the United Kingdom gaining one to 15%, China settling further with 5% of global share, while overtaking France in the ranking and the rest of the world sliding down to 25%. Only time will tell.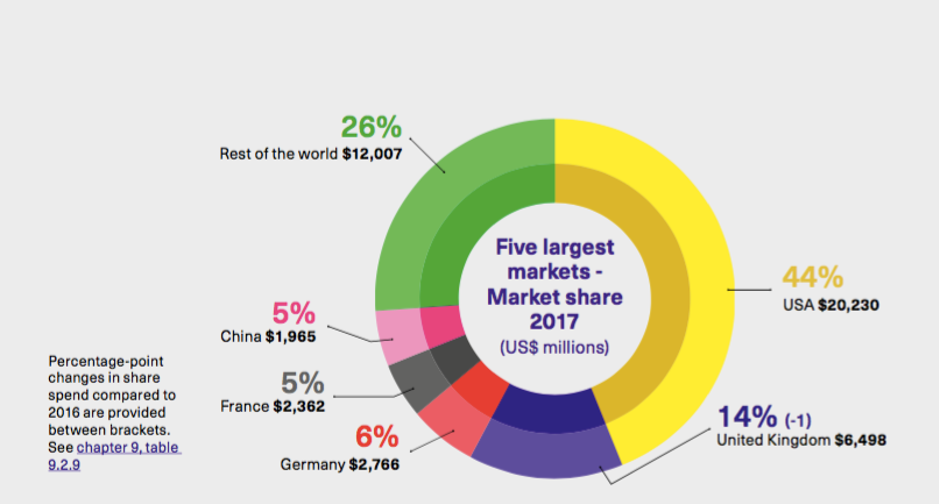 Spend by client type
Just like the previous year, 50% of the global spend in the world comes from 3 sectors: Consumer Non-Durables (CND), Media Broadcasting and Pharmaceutical, with a combined 51% of total share since 2015. Although CND saw a decline from 23% in 2015 to 19% in 2017, it hasn't changed since. Telecommunications and ICT saw a drop for 6 to 5% in 2018. Financial services and advertising agencies saw an uplift by 1%, from 5% to 6%.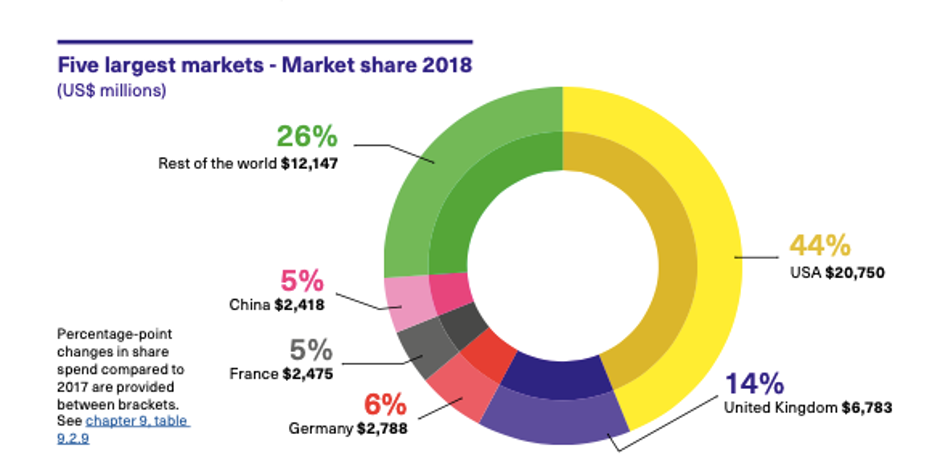 Change to the spend by research method
The amount of turnover from quantitative research methods decreased from 81% in 2017, to 78% in 2018. This decrease is thought to be a consequence of the rise in analytics research.
The methods of quantitative research included online quantitative research (26%), telephone (11%), other quantitative (10%), face-to-face (8%), automated digital/electronic (7%), mobile/smartphone online quantitative research (9%), online traffic/audience management (6%) and mail (1%). Whereas 2017 experienced a slight decrease in online research from 45% to 43%, 2018 saw the resurgence of online methods back to 45% of global research. Countries with the highest share of online research methods included Australia, the United States, Japan and Germany.
Rankings for face-to-face research has not changed much since 2017. Face-to-face methods were most popular in Pakistan (with up to 72% of all research being conducted through face-to-face methods), Kenya and Indonesia. Vietnam saw an increase from 56% to 59% and takes fourth place replacing Turkey, and Thailand moved up into the top 10 with 53%, 11 points more than for 2017.
Qualitative research claimed 14% of market share in 2018, with focus groups taking the highest, 4% share. Other methods included online research communities (3%), in-depth face-to-face interviews (2%), secondary analysis (3%), online groups, discussions and bulletin boards (2%), mobile qual (1%) and traditional ethnography (1%).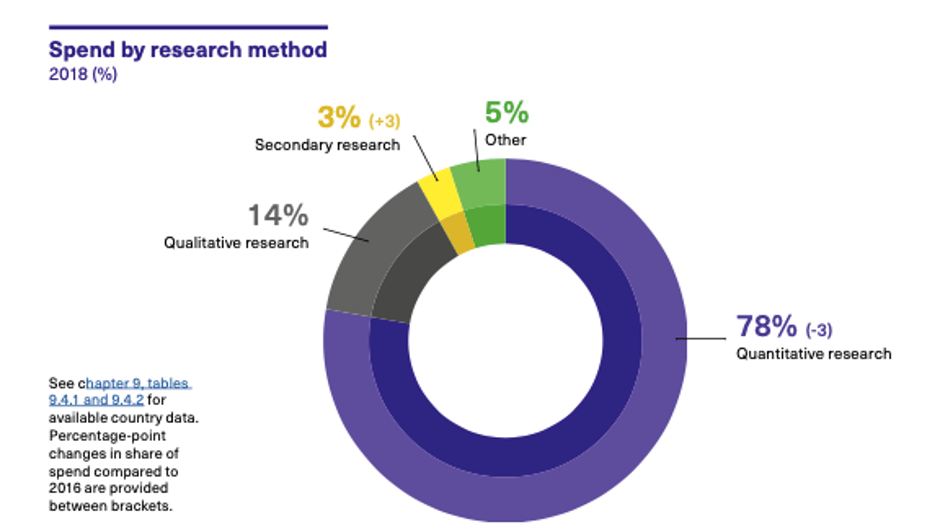 No major shifts were recorded in the share of turnover by project. Market Measurement increased from 16% in 2016 to 21% in 2018 and is particularly popular in Europe (27%) and China (30%). Media Audience / Measurement grew by 1% to 12% and is most common in the USA and Latin America.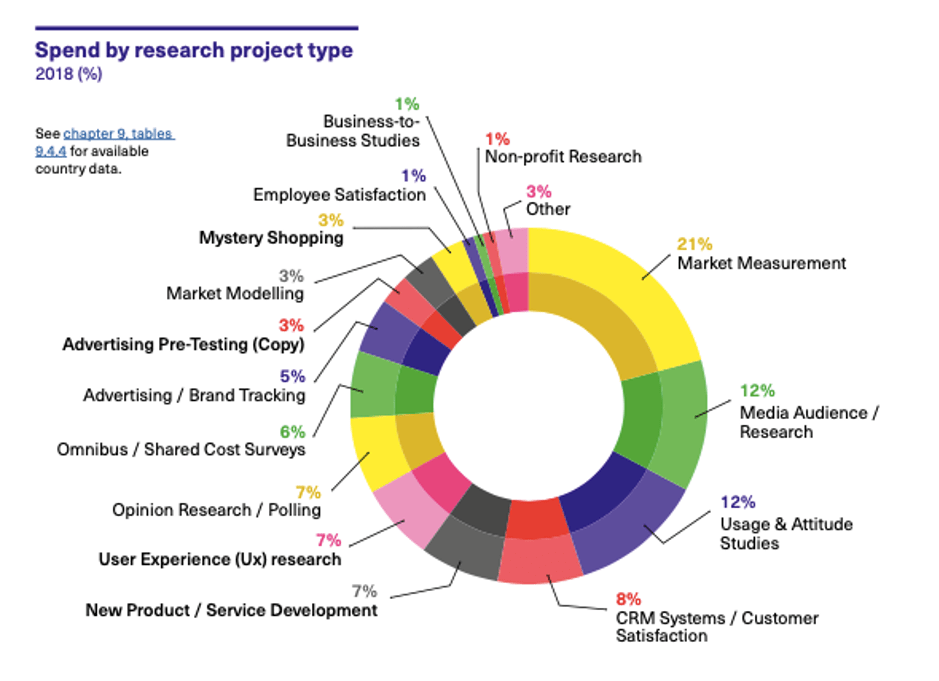 2018 was a tricky year for the market research industry. The positive absolute growth of 2.1% globally adjusted to a negative net one (-0.3%), as an effect of inflation.
However, the predictions for 2019 appear slightly more positive, with a higher number of respondents expecting the industry to have expanded further than in 2018.